Broan® Energy Recovery Ventilator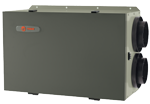 Ventilators bring fresh air into your home without losing heating or cooling energy. Their unique energy exchange system transfers the heating or cooling energy from the stale air being exhausted from your home to the fresh air the ventilator brings into your home.
The Broan ERVS100S is an effective, balanced ventilation solution featuring integrated humidity sensing to limit ventilation during periods of excessive outdoor humidity to contribute to a more comfortable indoor environment. The ERVS100S provides a supply of fresh, filtered air to the home while exhausting stale air and pollutants.